印象文学
IMPRESSION LITERATURE
大刀行
---
---
  抗战胜利六十周年之际访台儿庄英雄李宗岱老人于重庆桂花园,听老人言当年战事,历历如在目前,为之感奋动容者良久,归作此篇。
  寇氛东来何猖獗,
  神州陆沉天柱折,
  一夕烽火遍地燃,
  映红卢沟桥上月。
  雄狮怒吼气如山,
  百万义军出边关,
  慷慨高歌大刀曲,
  不灭倭寇誓不还。
  旌旗猎猎日色微,
  台儿庄上战火飞,
  枪炮齐鸣风云变,
  鬼哭狼嚎势可危。
  家园转眼成焦土,
  尸骸枕籍讵可睹,
  男儿裂眦仰天号,
  横刀顿作冲冠怒。
  为国尽忠掏肝肺,
  阵前挺出敢死队,
  三尺刀锋闪寒光,
  要劈鬼子头颅碎。
  队长姓李名宗岱,
  家本山东烟台外,
  十九学得武艺成,
  北方军校少壮派。
  是时风静天渐黑,
  奇兵未许鬼神测,
  忽如猛虎下山来,
  大刀翻飞齐杀贼。
  宗岱举刀独高呼,
  宁死不做亡国奴,
  左砍右劈入敌阵,
  刀光闪处血模糊。
  中有一倭剑出鞘,
  八格牙鲁哇哇叫,
  两刃交锋斫有声,
  生死瞬间信难料。
  勇士腾起作鹰姿,
  凌空舞刀似电驰,
  一声咔嚓魂已断,
  污血飞溅湿戎衣。
  归罢无暇论战功,
  又闻村前炮声隆,
  大刀未磨甲未解,
  重上战场挫敌锋。
  天际漫漫走黄埃,
  敌弹隔阵忽飞来,
  一目中弹穿耳出,
  肝脑涂地何壮哉。
  壮哉大难竟不死,
  辗转救治三千里,
  陪都新闻传纷纷,
  独目虎将名遐迩。
  丈夫所思在战场,
  岂甘伤残久卧床,
  起望中原烽烟远,
  壁上大刀夜生芒。
  挥毫疾书坚请战,
  独目犹堪赴国难,
  报仇雪恨死不辞,
  何况手足尚强健。
  库部恤金八百两,
  分文不受充军饷,
  临行击楫誓中流,
  大刀一曲再三唱。
  沙场重到战犹烈,
  阵前白骨纷如雪,
  八年圣战不寻常,
  河山寸寸皆是血。
  壮士百战终凯旋,
  解甲结庐字水边,
  六十余年如一梦,
  梦中大刀犹蹁跹。
  英雄老去人不识,
  小巷深处独栖息,
  惟有年年胜利日,
  倚杖犹能话往昔。
  我仰英名如传奇,
  何幸一瞻松鹤姿,
  头上点点弹痕在,
  想见当年血战时。
  为我重唱大刀歌,
  忽如黄河乍扬波,
  豪气不减出征日,
  令我慨然泪滂沱。
---
  陈仁德,笔名虞廷。中华诗词学会理事,重庆诗词学会副会长。
  Chen Rende, Yuting by courtesy name, is the director of Chinese Poetry Society and the vice President of Chongqing Poetry Society.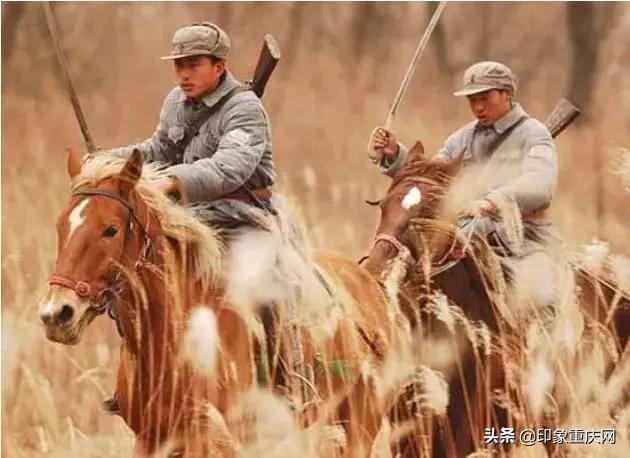 Preface: I visited Li Zhongdai, a hero of Taierzhuang on the Sixtieth Anniversary of the Success of the War of Resistance. I heard him talk about the war so vividly as if happening before my eyes. I was so touched and wrote this poem upon my return.
  The Broadsword
  By CHEN Rende
  Tr. ZHAO Yanchun
  The Japanese from east rushed in like a flood;
  The land collapsed, the sky fell with a thud.
  Beacon fire everywhere sent raging rays;
  The moon over Lugou Bridge was set ablaze.
  Lions roared, as if shaking the mountaintop;
  A million troops passed Border Pass nonstop.
  A broadsword tune they sang, stirring the air;
  Before slaying the Japs, return they'd ne'er.
  Flags and standards fluttered, shading the sun;
  In Terrace Vill war fire did wildly run.
  Guns and cannons thundered, with clouds o'ercast;
  Devils and demons howled, looking aghast.
  Our hometown soon turned into a burned land;
  Bones and corpses o'erlying one could not stand.
  Our soldiers howled aloud towards the skies,
  Swaying their broadswords and bulging their eyes.
  For their land they'd give their all to the war;
  In the front they formed a dare-to-die corps.
  The three foot long sword gave off a cold flash;
  Which would chop the devil and his head crash.
  The corps leader was Li Zongdai by name;
  Beyond Yantai Shangdong Province he came.
  He mastered Kungfu at nineteen years old;
  North Academy saw him strong and bold.
  Now it was getting dark and the wind stopped;
  Without the foes knowing it, our men popped.
  Like tigers down the mountainside they dashed;
  With vigor and swish-swish of swords they slashed.
  Zhongdai shouted with his broadsword up raised:
  "We'd rather die than be conquered, debased."
  He dashed and slashed through the enemy line;
  It was all blood when his blade gave a shine.
  A Jap there from his sheath drew his sword out;
  "Bagayalao!" the Jap ghost gave a shout.
  The two blades crossed each other in their strife
  It was a matter of chance, death or life.
  The brave man rose like a hawk in the air;
  Like lightning he waved his sword to glare.
  Crack, a devil was cut, yelling to die,
  His armor splashed with blood jetting high.
  Now back, not yet time for reward of war,
  They heard cannons before the village roar.
  His broadsword not honed, his armor still bound,
  He rushed again onto the battleground.
  Dust whirled along to the end of the sky;
  Enemy's bullets through the front did fly.
  A shot through his eye and out from his ear!
  What a story! What a story to hear!
  How great! He did not fall to the hell;
  He was moved one thousand miles to get well.
  'Cross North Pei his story spread like a tide;
  A One-eye giant, he was known far and wide.
  To fight a battle is a fighter's mind;
  How can he to sickbed be long confined?
  Beacon fire lit up the mid-plain at night;
  His broadsword on the wall shimmered light.
  To go to war, he wrote for a request;
  Though one-eyed, he could serve his country best
  To revenge the land, one could give his whole,
  Let alone he was wholesome heart and soul.
  He gave back eight hundred taels of pension
  As part of army's pay and provision.
  Now starting off, downstream he stroke his oar,
  And sang a tune of broadsword, and sang more.
  Back in the battleground, fight on the go,
  White bones overlying looked much like snow.
  Eight years'war we could hardly understand;
  Blood was spilled, staining each inch of the land.
  A strong one through all battles triumphed back;
  Disarmed, he'd live riverside in a shack.
  Sixty years is like a dream it does seem;
  He's still swaying his broadsword in his dream.
  The old hero's memory fails, unknown;
  In the depth of the lane he lives alone.
  Only when each year's V Day comes on
  Stick in hand, he can talk about things gone.
  A great hero's legend I do admire
  The pine I could look at, as reaches higher.
  Lots of shot marks you can find on his head
  And imagine how the soldiers had bled.
  He sings me a song of broadsword again,
  Like the Yellow throws up its waves amain.
  His heroic pride does not drop at all;
  So moved, I feel my tears downright fall.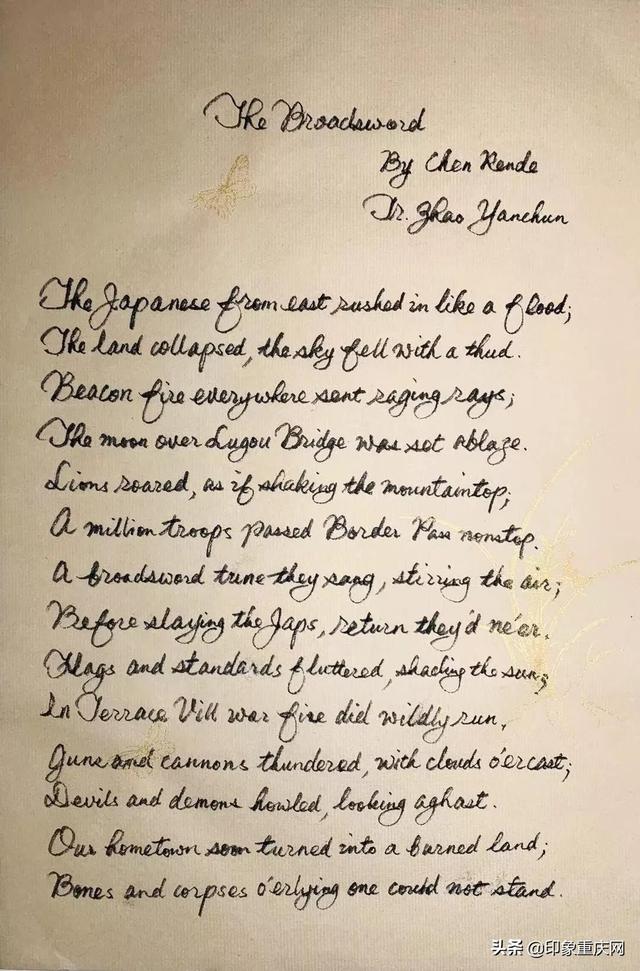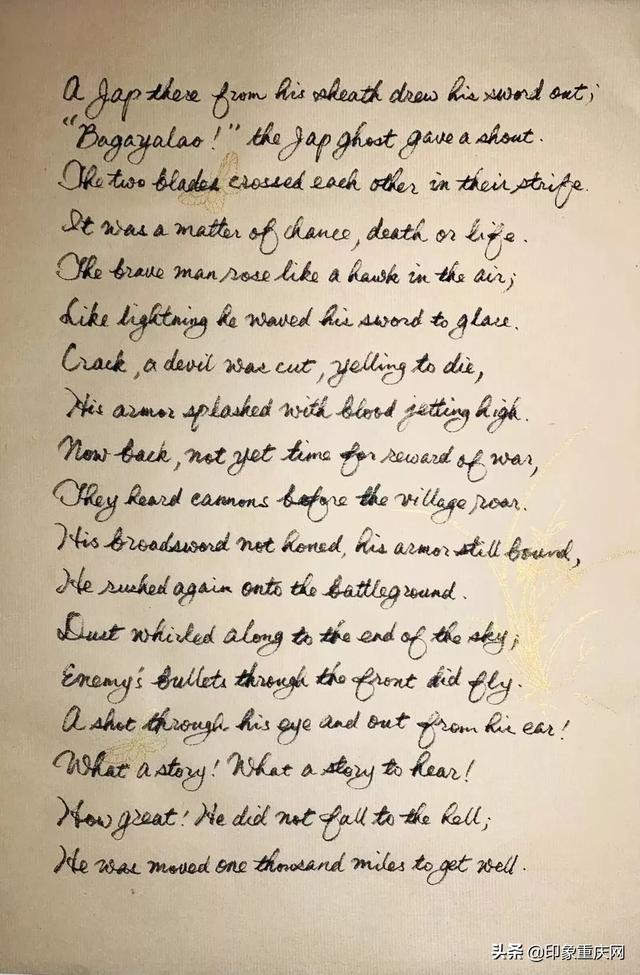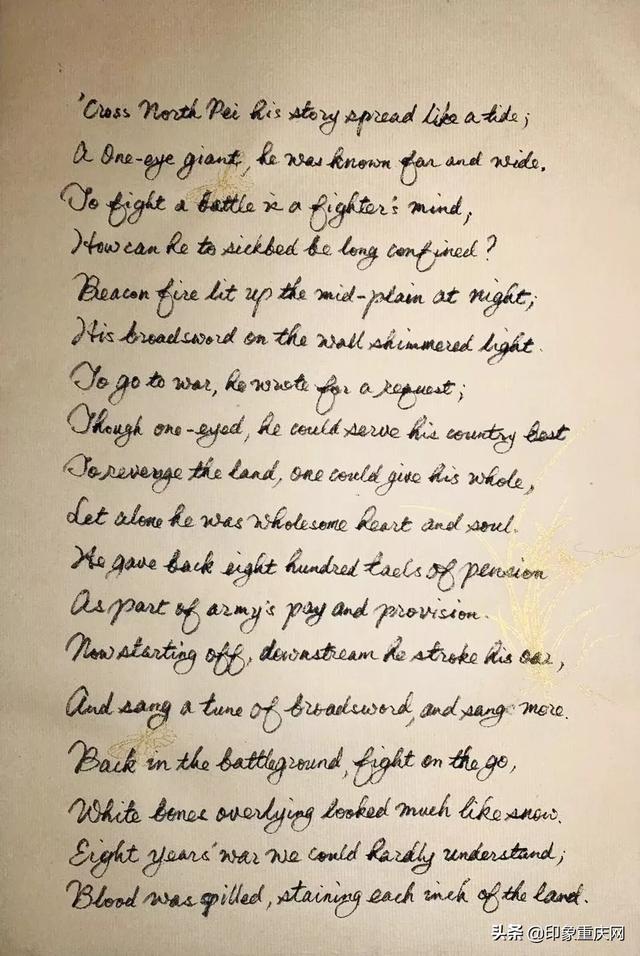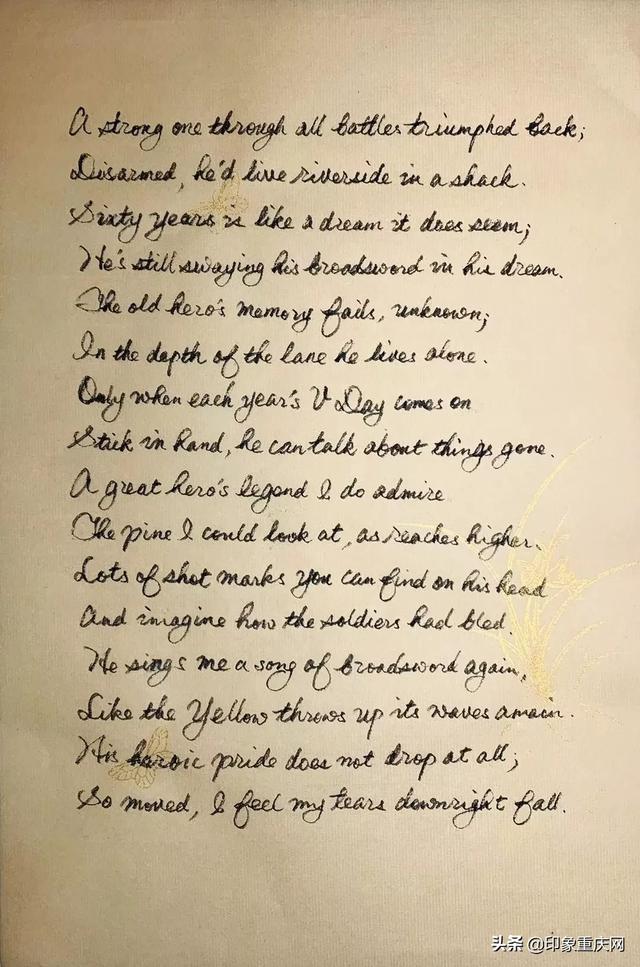 ---
  译者简介:
  赵彦春,博士生导师,上海大学中国文化翻译研究中心主任,国际学术期刊Translating China 主编,国际汉学与教育研究会会长、传统文化翻译与国际传播专业委员会会长、中国先秦史学会国学双语研究会执行会长,中国语言教育研究会副会长,其翻译作品,被誉为"有史以来最美汉英翻译""神翻译""神还原"。
  Biosketch of the Translator:
  ZHAO Yanchun: Professor of English at Shanghai University, Director of Center for Translation of Chinese Culture, Editor of Translating China, President of International Sinology and Education Society, President of Chinese Culture Translation and International Promotion Committee, Executive President of Chinese Classics Bilinguals' Association, Vice President of China Language Education Association, a proponent of the principle of translating poesie into poesie and classic into classic. His translations have been widely reported and acclaimed as the unprecedented Chinese-English translation, the best, the choice, the cream.
---